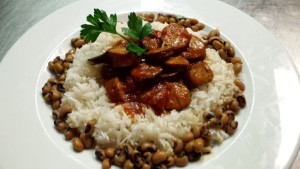 For 6 people
6 large smoked sausages (sausages Reunion or Montbéliard sausages)
2 onions
1 sprig thyme
2 parsley branch
3 cloves garlic
5 tomatoes
¼ teaspoon of saffron (Curcuma)
1 piece of ginger
¼ L of water
1 bay leaf
1 hot pepper or chili oil confit
5 tbsp oil
Salt and pepper
Cut the sausage into slices and boiled in water for 10 min to desalt. (A Reunion, sausages are salted).
Drain.
Chop herbs, onions, garlic, ginger and set aside. Cut the tomatoes into small pieces.
In a casserole, heat the oil. Sauté onions, sausage and 3 min after tomatoes, crushed garlic, ginger, thyme and saffron.
Stir.
Cover and simmer over low heat for 15 minutes
Served with fragrant rice and beans (red beans, zamberic, large peas, lentils, etc …)
Bon appetit a zot '