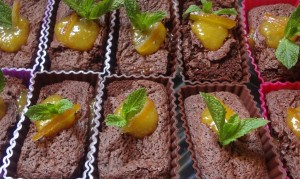 4 people
3 eggs
1kg ripe mango too
½ vanilla pod
130g dark chocolate
80 g of butter
1 pinch of salt
Powdered sugar cake 40g + 400g sugar for jam
20 g of sifted flour
1 lime
Preheat oven to 170 °. Grease and flour pan.
Separate the whites from the yolks. Cut the diced mango. Split vanilla and scrape the seeds.
Break the chocolate into pieces in a bowl, melt it in a double boiler. When melted, remove from heat and add the butter in small pieces, vanilla seeds, salt, sugar, egg yolks, then the flour and mix well.
Whisk the egg whites until stiff. Incorporate them delicately in the preparation using a flexible spatula.
Divide the mixture into ramekins or mold, buttered.
Prepare a mango jam with mango, sugar, vanilla and lemon. 30 minutes cooking.
Check by running a little jam on a plate. It should not run too fast. Do not cook too long
Bake on the bottom of the oven 8 to 10 min. Let stand 2 minutes (but no more) before removing from pan.
Place jam on the soft
Enjoy them without delay ….